Upstate New York Answering Service – enjoy the benefit of a local answering service's agents handling your calls
With the your answering service teams taking calls from Auburn, Syracuse and Watertown, you will be able to extend your hours of operation and availability for new business — servicing callers 24 hours a day, 7 days a week.
Whether you're a growing business with fluctuating support needs, an attorney looking for additional administrative support or a doctor looking for an after hours service, you will enjoy the attentive professionalism of our friendly answering service agents and virtual receptionists. Need a bilingual answering service? We've got your covered with team members who are ready to assist your callers with the same level of attention and care that you would.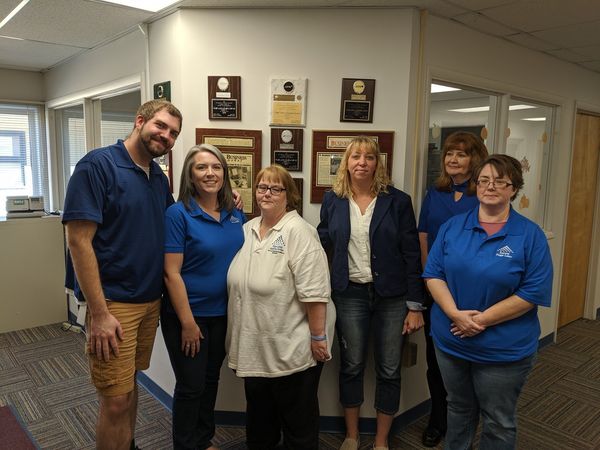 Our Auburn, NY answering service team!
Auburn Answering Service
Our Auburn location was founded in 1990 and was previously known as Finger Lakes Answering Service. This was then merged into Finger Lakes Business Services in 2002 by Gardner McLean and Raymond Schremp. Auburn still serves as the headquarters for AnswerUSA today providing phone answering services to more than 1000 local businesses.
Karen Goodman is Auburns longest tenured employees, an account manager who has been with Finger lakes since 1995!
Taylor manages our Auburn location and be contacted at 315-255-6200
Syracuse Answering Service
Our Syracuse location can loosely trace it roots back to its predecessor company Communications Group, Inc that provided paging company and answering service to businesses in Syracuse since 1965! As part of the merge to Finger Lakes Business Service along with our Auburn location in 2005, Answer Syracuse was founded and moved into a new office on James St.
Fun FACT: Linda Winterfield, a team leader has been working at our Syracuse location since the 1980's!
Eli manages our Syracuse location and can be reached at 315-432-9703
Watertown Answering Service
Finger Lakes Business Services acquired the answering service company S.T.A.T Communications Inc in Watertown in 2014. AnswerWatertown started operations under AnswerUSA on October 1, 2014 even though the staff and management were still mixed. AnswerUSA was an extension of Finger Lakes Answering Service that began operating in 2010. Today our Watertown location serves businesses from a range of local industries.
Our Watertown location is managed by Nicole and she can be contacted at 315-755-7001
Our 24/7 services include:
Overflow/After-Hours Coverage
Why Choose Us?
AnswerUSA is more than just a smart, easy, and affordable way to manage your calls. We want to ensure that we live up to being a true business partner by providing personable answering service and virtual receptionist agents delivering first-class support to you and your customers. From message forwarding to appointment scheduling or order-taking, our agents are always on call, ready to provide exceptional customer service. Whether you are reorganizing your business priorities, trying to cut costs, or just want to spend some extra time with your family, you'll never miss another call. Whatever your needs, AnswerUSA is much more than just a typical call answering service—we're your answering service.